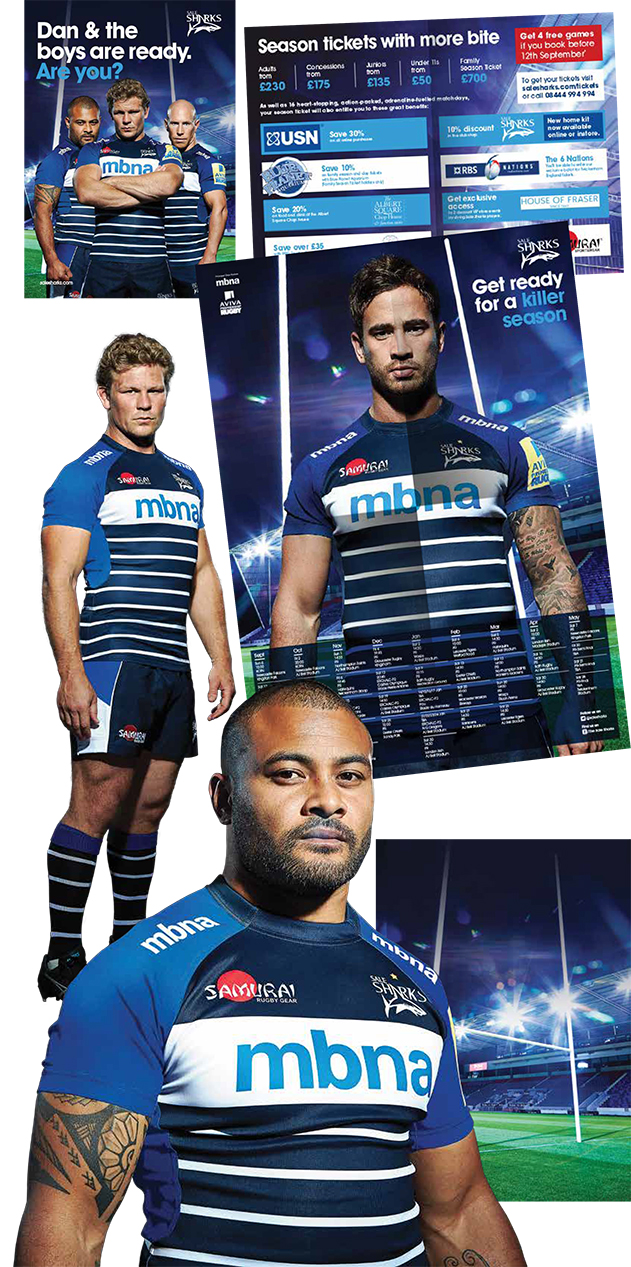 After triumphing over three other agencies, we added rugby union giants Sale Sharks to our client list. They tasked us with promoting season ticket sales and getting fans ready and raring to go for an action packed Premiership season.
Time was tight as we only had just over a week to photograph, write, design, and artwork this striking photographic campaign. Our hunt for the perfect photos took the length and breadth of the country; first stop was the AJ Bell stadium, home to the sharks, to capture the images that would form the backbone of our Offline and Online campaign. We burnt the midnight oil, got the floodlights blazing and snapped some fantastic dark and atmospheric shots.
Getting up close to the Sharks themselves we shot each of them in front of a screen, looking strong, tall and ready for action. Despite having only one kit and a strict time limit we managed to get just the right lighting and stance to bring out that predatory presence we were looking for.
Next it was a dash down South to the England squad's not so secret hide away, the Pennyhill Hotel, where Danny Cipriani was hard at work in training. This is one of rugby's superstar's so we worked around his schedule to make sure that we got the opportunity to snap the poster boy we knew was key to our campaign.
We then got straight back up North and onto the Mac, seamlessly comping together our players and backdrops in a retouching session lasting into the early hours of the morning.
A very busy few days and the results speak for themselves. We created a full Solus mailer and email campaign to get fans ready for a killer season. The mailer also included a full poster fixture list featuring rugby union legend Danny Cipriani, perfect for any adoring Sharks fan's bedroom wall.