Following yet another successful pitch, we've recently added one of the UK's largest national catering butchers, Birtwistles, to our already impressive client list.
We've been commissioned to create, launch and implement an exciting, new brand identity that showcases why Birtwistles are much more than just meat.
To achieve this we created something that we call the "Birtwistles DNA". This depicts the meaning behind the logo by highlighting all the key areas in which the business excels and shows how they all come together to create something special. This DNA forms the core of the brand and serves to express the experience, know-how, scale and quality of the brand wherever it is used.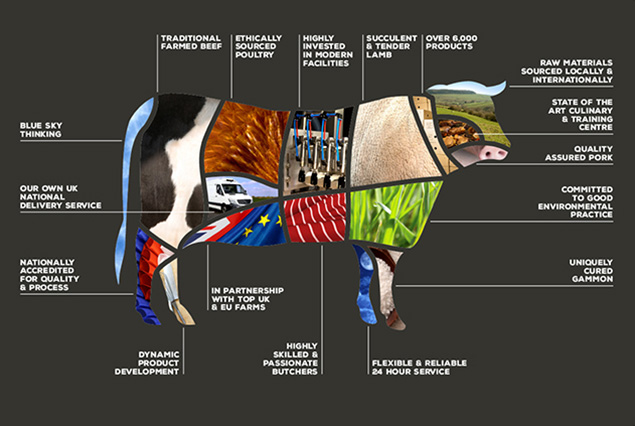 The new brand overhaul includes everything from a new logo, website, photography, email marketing, stationery, literature, and signage to vehicle livery and merchandise as well as an online video that takes viewers on a journey depicting a day in the hectic life of the people that make Birtwistles so special.
The catering and meat industry specialist has over 6000 different product lines and delivers more than 1300 orders every single day, all of which are selected, picked, packed and dispatched before you or I have had time for breakfast.
Expressing what makes them such an impressive and remarkable business is no mean feat, but it's something that we've achieved through a combination of striking photography, insightful copy and intelligent design.
We've just launched their new brand identity, which you can see for yourself on our work page. This marks the start of what we hope to be a long and successful partnership between Brave and Birtwistles.