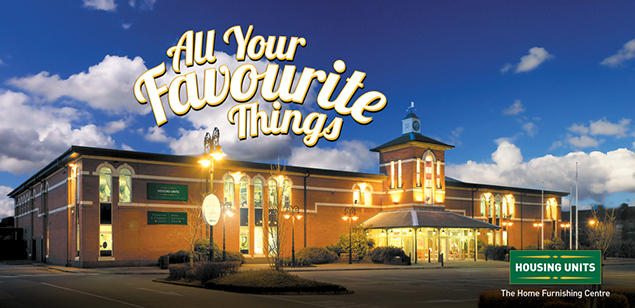 Today sees the launch of our new and exciting TV commercial for Housing Units, the North's Premier Independent Home Furnishing Store.
The TV advert marks the start of a multi-channel campaign that will position Housing Units as the home of 'all your favourite things'. This proposition will resonate with our target audience and will evoke a certain element of nostalgia from older consumers, whilst also helping to express what a special and magical place Housing Units really is.
To do this we've written and produced a sound track that, with our family, will take viewers on a magical musical journey around the store, travelling from department to department, through the restaurant, climaxing outside the main entrance with a grand finale! The ad is fun and energetic, like a classic musical should be, and every scene is filled with dancing staff, beautiful products and our happy family who are dancing their way through a great day out.
We're all delighted with the finished commercial and it's been a lot of fun to make! So a big thanks you to everyone who got involved, especially our two little leading ladies who really stole the show!
The new advert will be airing from today so keep your eyes (and ears) open, but if you just can't wait you can view the TV advert below.
Credits:
Art Director: Steve Kempster
Copywriter: Chris Banner
www.housingunits.co.uk